2012 Lotus Evora GT4 Endurance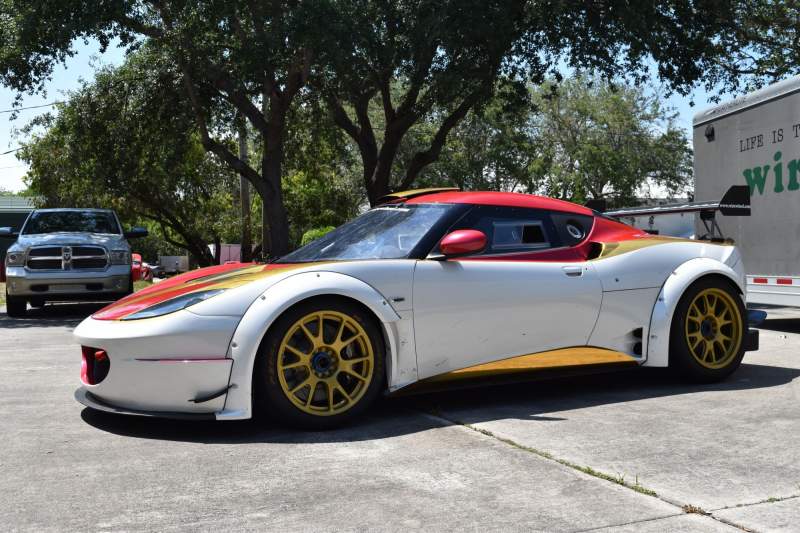 New full body wrap in white/red/gold
Factory built Evora GT4 race car, with full endurance spec upgrades
Fresh Cosworth GLB 4.0 V6 engine, built by Total Engine Concepts
XTrac 6 speed sequential transmission, just rebuilt by Xtrac with intelligent paddle shift
All new stainless steel hoses and plumbing installed
Pectel SQ6 ECU
PI Dash with data logging
10" Front and 12" Rear center lock alloy wheels, with spares
Alcon endurance spec brake calipers and brake rotors
Motorsport fender flares
Air jacks
Larger rear carbon fiber diffuser from the Lotus Elise GT1 project
Crawford carbon fiber rear wing
spares included
Developed from the highly acclaimed Lotus Evora sports car, the Lotus Evora GT-4 race car has been engineered to give drivers a competitive racing package straight 'out of the box'.
Lotus Motorsport developed the Lotus Evora GT-4 race car in conjunction with a number of prestigious technical partners. As such it features a world class chassis, steering and brakes, resulting in exceptional handling. A naturally-aspirated V6 engine is managed by Cosworth Electronics Systems, delivers 445 Nm of torque @ 5,500 rpm powering the rear wheels through a 6-speed sequential gear box, with a paddle shift option.
With FIA approved design and safety features, the car was accepted in over 12 of the world's leading GT series.
In short, the Evora GT4 is a potent force and an ideal instrument with which to explore your racing talent and make a mark in GT motorsport.
$119,000